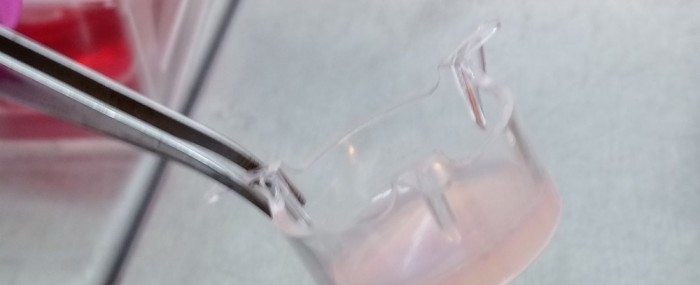 Model developed by startup supported by FAPESP enables scientists to assess efficacy and safety of sunscreens and anti-aging products under conditions closely resembling real life (photo: Eleve Science)
Published on 03/16/2021
By Eduardo Geraque  |  FAPESP Innovative R&D – A platform based on a three-dimensional (3D) skin model developed by Eleve Science, a startup incubated at the Supera Innovation and Technology Park in Ribeirão Preto, state of São Paulo, Brazil, could help the cosmetics industry eliminate animal testing by enabling it to perform efficacy and safety trials on sunscreens and anti-aging products under conditions closely resembling real life.
Created via a project supported by FAPESP's Innovative Research in Small Business Program (PIPE), the platform comprises a structure with a diameter of approximately 2 cm on which cells derived from human tissue grow layer by layer to form a 3D skin model.
"The skin model we've created is complete with the two main strata of the organ, dermis and epidermis, and melanocytes [cells that produce the protective skin-darkening pigment melanin]. It can be used to measure the effects of sunlight on skin under almost real-world conditions," Ana Luiza Forte, principal investigator for the project, told FAPESP Innovative R&D.
According to Forte, most methodologies used to test sunscreens cannot take into account all the kinds of damage done by solar radiation to the various skin strata, and above all biological alterations at the DNA level or in terms of the formation of free radicals.
Tests on humans, for example, can measure whether a certain amount of ultraviolet light will make the skin red when exposed to the sun, but this is only one of the effects of solar radiation on people. Because the Sun emits energy across a spectrum of wavelengths, from infrared to visible light to ultraviolet, it is important to glean knowledge of all the ways in which it affects human skin, especially in Brazil, where ultraviolet radiation is strong throughout the year.
"Each wavelength reaches different layers of skin and can cause different kinds of damage, so the complete skin model we've developed can be used for testing that closely approximates reality," Forte explained.
Another advantage of the platform is that the model is based on cells derived from human tissues with different pigmentations and can be used to test sunscreens and cosmetics on different skin hues. "This is very important for a country like Brazil with significant ethnic mixtures," Forte said.
Safe alternative
According to Eleve, the project is in the final stage of validation and the results of the research are expected to come to market soon. There is a growing demand for alternative testing methods from the cosmetics, chemical and healthcare industries, which are under regulatory and social pressure to stop using animals for preclinical trials to assess efficacy and safety. Other advantages of alternative methods include discovering the action mechanisms of novel active principles and reducing the need for human volunteers in tests of sunscreen effectiveness.
"The platform we've developed is a safe and effective alternative to animal testing of products that will come into contact with the skin," Forte said.
Source: https://agencia.fapesp.br/34560