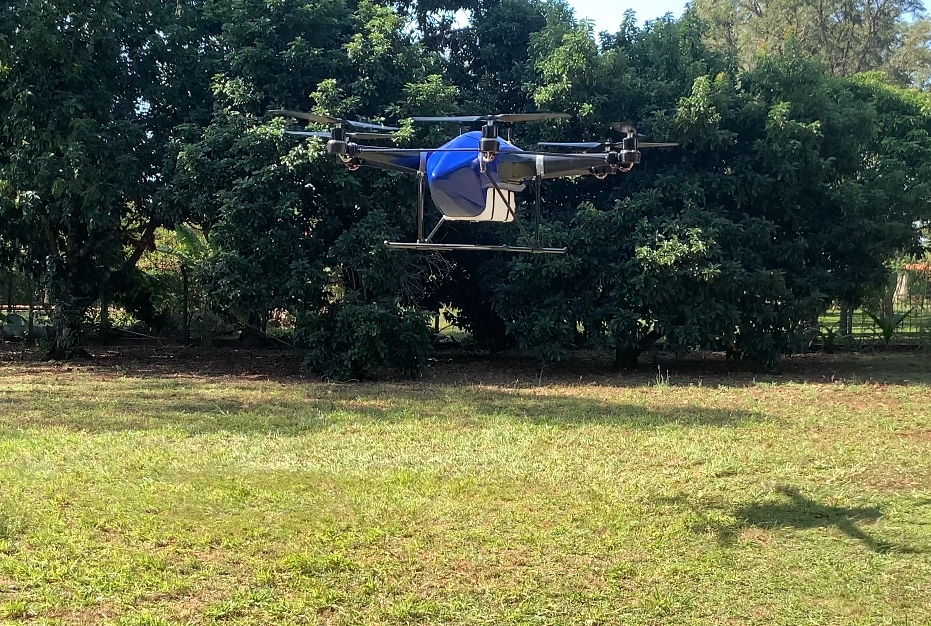 Brazilian technology developed with FAPESP's support can be used to spray large or small areas, economizing inputs, lowering costs and mitigating environmental impacts (photo: Model Works)
Published on 06/05/2023
By Fábio de Castro  |  FAPESP Innovative R&D – A crop sprayer drone developed by Model Works, a startup based in São Carlos, São Paulo state (Brazil), features several advantages over traditional crop spraying technology. It has an onboard generator powered by liquid fuel and an innovative automated refueling system that increases its range. It can be used to spray both large and small areas, saving time, economizing inputs, cutting costs and mitigating environmental impacts. 
Model Works received funding from FAPESP's Innovative Research in Small Business Program (PIPE) for development of the concept, as well as prototypes of the drone and refueling platform, according to engineer Henrique Moritz, one of the firm's founding partners.
"We want to solve an important problem for our end-customer, the farmer. Almost all crop spraying is currently done by tractors and aircraft. Both methods have pros as well as major cons that can be avoided by using the drone," Moritz said.
Crop sprayer planes (also known as aerial applicators) have the advantage of rapidly covering large areas, he added, but do not enable the operation to be controlled with precision. Moreover, the entire area has to be sprayed, which often entails a waste of inputs and a significant environmental impact, not to mention the high cost of each flight.
"Tractors have the advantage of permitting localized application of pesticides because of their slow speed. This economizes inputs. However, running a tractor across a field crushes part of the crop, lowering yield by about 4%, depending on the machine. Furthermore, you probably won't be able to use a tractor for this purpose if it's raining because it will get bogged down," Moritz explained.
Crop spraying by drone avoids the main disadvantages of planes and tractors. Speed can be tightly controlled, the crop is not damaged, and the pesticide can be applied precisely and in a localized manner or over a large area. Moreover, it can be done regardless of the weather and even when the soil is wet.
Experienced farmers
The founders, Henrique Moritz and his brother Carlos Alfredo Moritz, both have degrees in mechanical engineering from the University of São Paulo (USP) in São Carlos and belong to a family with several generations of experienced farmers. According to Henrique, close contact with agriculturists facilitated identification of the problems constantly faced by growers of important crops.
"Drones are very useful for plant disease detection via multispectral imaging, for example, but there was a gap to fill in terms of an innovation enabling their use to spray small areas with precision. Nothing available on the market could leverage their potential to the utmost," he said.
The drones used in Brazilian agriculture are mostly imported from China, according to Moritz. Their capacity is relatively large, as they can carry about 40 liters of pesticide, but their range is limited because they are powered by a battery that lasts about 10 minutes, making operations laborious and costly. 
"Conventional drones aren't competitive with spraying by aircraft or tractor, so we set out to innovate in order to use their full potential and lower costs," Moritz said. "Our focus is a large-capacity drone with an onboard combustion generator using liquid fuel. This extends the range and facilitates refueling."
The firm opted to develop the complete drone using indigenous technology with a few imported custom parts, according to Moritz. Cutting-edge technology was used in the carbon fiber structure in order to produce a lightweight device with sufficient robustness to serve as an agricultural machine. The drone has a wingspan of about 3 meters, not counting the rotors, and capacity for 70 liters of pesticide.
"Liquid fuel has high energy density, so few liters are needed per flight. The fuel is used to run the generator, which produces electricity for the flight. Otherwise, it operates similarly to an electric drone, but the power source is the generator instead of a battery," Moritz said.
Versatility and flexible range
This solution makes the drone's range highly flexible. If it needs to fly for an hour, for example, it carries more fuel and less pesticide, but if it needs to spray 70 liters in a short time, it carries less fuel. This versatility is enhanced by the innovative refueling system, which is one of the project's main technological advances.
"We set out to develop a refueling system with the least possible complexity in order to reduce the likelihood of problems," Moritz said.
The refueling system is a platform similar to a helipad. The drone lands on it with precision, guided by GPS navigation, and the fuel nozzles couple to it automatically. The system detects that the drone has docked safely and starts pumping fuel and pesticide into it.
"It's a highly versatile platform. It comes with a trailer and can be transported from one site to another in search of the optimal location from which to spray a crop. Spraying is fully automatic. The operators don't need to have any contact with either the fuel or the pesticide," Moritz said.
The control system was also developed by Model Works. It uses maps of the areas covered. The operator can delimit the area to be sprayed via the control software, identifying obstacles and portions not to be sprayed, such as water sources or environmentally protected areas. The maps serve as a basis for a flight plan, which enables the drone to operate autonomously.
"Besides the considerable economic impact of the project, our solution also has a potentially huge environmental significance," Moritz said. "Crop spraying can contaminate water sources and protected areas, but our system avoids this with precision thanks to GPS navigation. The operator is a long away from the drone and isn't exposed to any risks. The drone can be powered by ethanol, which reduces emissions of pollutants and also eliminates the problem of battery disposal."
Market and patents
Model Works was founded in 2016, and the Moritz brothers have devoted all their time and energy to the firm since 2017, initially looking for potential products and soon deciding to focus on development of the drone.
"We wanted the technology we developed to be totally indigenous and partnered very closely with USP São Carlos via agreements with the university and the support of faculty. Our firm assembled a multidisciplinary team that includes electrical and mechatronic engineers," Moritz said.
They made the first prototype of the drone in 2018, presenting it at Expo Londrina (in Paraná state, South Brazil) to test the market's reaction. "We were surprised by the tremendous media coverage and the interest from farmers during the trade show. We realized there was demand and started to develop the concept. That was also when we filed for the first patents," he recalled.
Two years later, a patent for the innovative refueling system was awarded. "Once we'd patented the basis for our solution, we went ahead with our application for funding from PIPE. We've filed for four other patents and expect them to be awarded soon," he said.
About a year will be needed after the start of the PIPE Phase 2 project for the product to be fully developed and the first contacts regarding commercialization to be made. Besides farmers, companies that specialize in crop spraying are also prospective customers.
"Our business plan prioritizes obtaining a final cost equal to or lower than the cost of traditional crop spraying methods. We've contacted service providers who use drones and have expressed a keen interest in our solution, especially because it's so innovative," he said.
Source: https://agencia.fapesp.br/41569