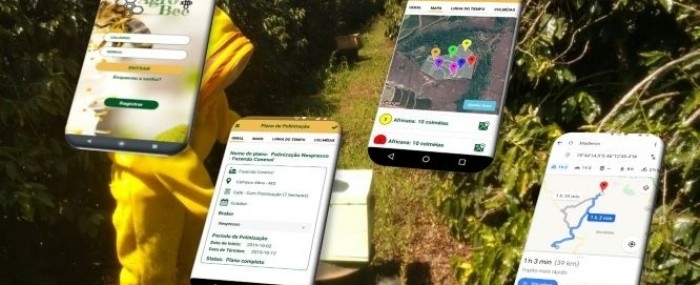 Brazilian startup Agrobee signs agreement with Agroven, an investment club run by family farmers who want to promote technological development in the sector (photo: Agrobee)
Published on 03/18/2021
By Eduardo Geraque  |  Agência FAPESP – Brazilian tech startup Agrobee has developed an electronic platform that connects beekeepers with farmers interested in renting beehives to pollinate their crops and increase yields. Coffee growers who use the service say production has increased 17% on average during the flowering season as a result. 
The startup is supported by FAPESP's Innovative Research in Small Business Program (PIPE). Its technicians analyzed 20 coffee plots in which hives were installed and found that average production per hectare increased by 8.8 60 kg bags, corresponding to BRL 3,960 per hectare in additional income for the grower (now about USD 700).
Investor interest in Agrobee has steadily grown in response to these and other positive results in the field. In early July the firm signed an agreement with Agroven, an investment club run by family farmers who want to promote technological development in the sector. The investment has enabled the firm to scale up the project.
"The injection of capital will enable us to develop new functionality for the app," said pharmaceutical scientist Andresa Berretta, a co-founder of the startup.
One of the new tools will enable Agrobee's technicians to assess the quality of beehives offered for rental using photographs sent by beekeepers via smartphone. Currently, they have to carry out these inspections on site, incurring expenses and delaying hive transportation.
"The new tool will help us offer our services to every part of Brazil," Berretta said.
The extra capital will also enable the firm to help the best beekeepers cataloged by the app to multiply their hives, enhancing the productivity gains available to farmers who lease them. 
"Beehives are frequently transported in large trailer trucks in the United States. That isn't possible yet in Brazil, so this kind of assistance for beekeepers will be important to grow the supply chain nationwide," Berretta said.
Besides coffee farmers, who say their groves produce bigger harvests and sweeter beans when bees are present, agriculturists growing other crops are expected to become regular customers of the firm. "In the next two years we plan to connect beekeepers with growers of soybeans, oranges, strawberries, and sunflowers," Berretta said.
Initial tests with strawberries showed promising results, with the presence of bees raising average weight by 12.7% and sweetness by 19.2%, according to Agrobee. Another important point with regard to strawberries is the high deformity rate without bees (76.6%). With pollination the rate falls to 23.4%, increasing growers' revenue.
All-around service
Agrobee does not just help beekeepers connect with farmers in the same geographical area, like ride-sharing apps in big cities. It also takes care of the overall quality of pollination operations, meaning everything from choosing the right species of bee for particular crops to the right location for the hives, according to biologist Diego Moure Oliveira, a staff researcher with the firm. "Ideally, we need shade and a water source for the bees while hives are installed on a plantation," he said.
Agrobee's team examines hive quality in detail. For example, hives must not have to face natural enemies on arrival at a farm, because this will create stress and reduce pollination efficiency. Geographical proximity between beekeeper and farmer is also key, according to the firm's technical staff. The shorter the time taken to transport bees, the less their health will be affected.
The firm expects to reach 1,000 hectares of pollinated area this year, and uses both native stingless species and Africanized honeybees (hybrids of Apis mellifera scutellata and European honeybees). 
The environmental benefits of the firm's operations are also noteworthy, Berretta added. By contributing to the dissemination of a natural pollination culture, farmers will be able to improve pest control. "When farmers bring bees onto their property, they also tend to use agrochemicals more rationally," Berretta said.
Another benefit relates to climate change. More production per hectare means less need to expand croplands and hence less likelihood of deforestation and clearance.
 
Source: https://agencia.fapesp.br/34405