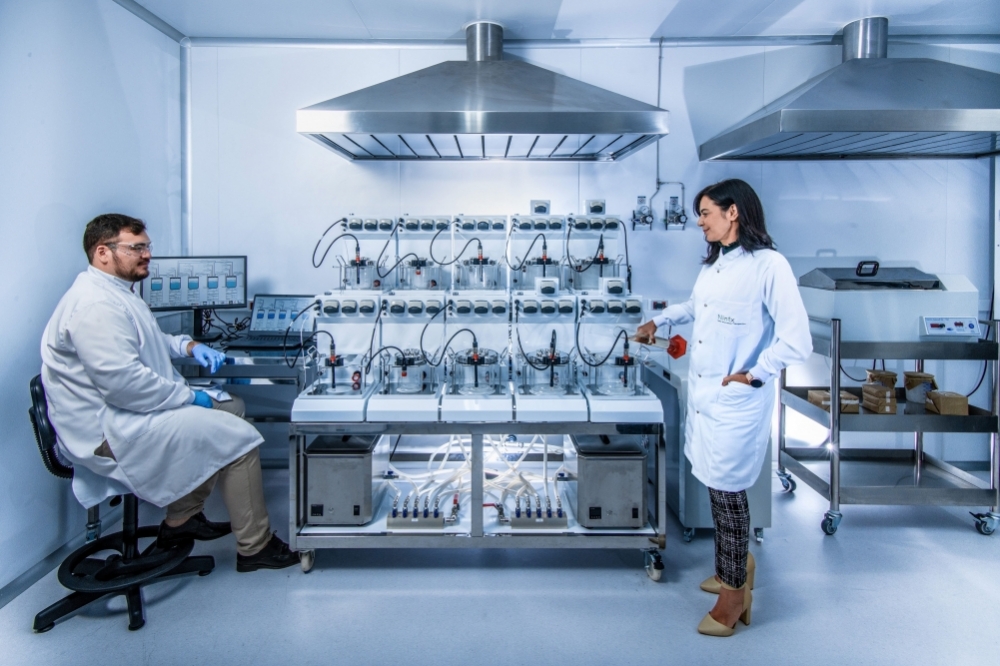 A startup based in São Paulo is working with research centers, laboratories and private enterprise to develop novel medications from plant-based natural products. The drugs will be designed to combat multifactorial diseases (photo: Nintx)
Published on 04/27/2023
By Elton Alisson  |  Agência FAPESP – Within a few years, Brazilian biodiversity could give rise to a new class of medications to treat multifactorial disorders – diseases caused by a combination of genetic and environmental factors, such as metabolic and brain disorders or cancer, among many others.
Development of novel drugs derived from plant-based natural products is being advanced in Brazil by researchers at Nintx (Next Innovative Therapeutics), a startup headquartered in São Paulo city, in partnership with federal institutions such as the Brazilian Center for Research in Energy and Materials (CPEM) and the Center for Innovation and Preclinical Trials (CIEnP), on one hand, and private-sector corporations such as Adeste and Centroflora, on the other.
To bring the new therapeutics to market more swiftly, in 2022 the startup received an injection of USD 3 million from the venture capital firm Pitanga via its recently launched investment vehicle Pitanga Redux.
Founded in 2011 by scientist Fernando Reinach, Pitanga invests in early-stage science and technology startups with outstanding growth potential. Often referred to as deep techs, these are typically startups based on scientific discoveries or disruptive engineering innovations.
Pitanga's portfolio includes other deep techs such as Argentina's Satellogic, which recently held an IPO on Nasdaq, and I.Systems, a Brazilian firm supported by FAPESP's Innovative Research in Small Business Program (PIPE) (read more at: agencia.fapesp.br/17230). 
Among Pitanga Redux's shareholders are Pedro Passos and Guilherme Leal, the founders of Natura &Co; Candido Bracher, former CEO of Itaú Unibanco and a member of the bank's board of directors; and Eduardo Vassimon, former President of Itaú BBA and chairman of the board at Votorantim. Leal has also invested directly in Nintx via his family office, Maraé Investimentos.
"Since we launched Pitanga Redux, in 2020, we've looked at the projects of more than 600 startups. We're most excited about Nintx. It's a genuinely unique proposal that combines the molecular riches of the greatest biodiversity on the planet, excellent technological infrastructure, and a team of scientist-entrepreneurs with an outstanding track record and ample experience in developing globally innovative therapies," said Gabriel Perez, managing partner at Pitanga and a member of Nintx's board.
"We like to invest in companies that face challenges involving technological risks because they're projects that can actually bring in higher returns."
Nintx's business plan focuses initially on unmet medical needs in five therapeutic areas: gastroenterology, cardiometabolic health, immunology, neurosciences and infectious diseases.
These therapeutic areas all have to do with diseases whose genetic factors interact with environmental factors directly or indirectly via the human gut microbiome – the many symbiotic and pathogenic microorganisms that live in our bodies, 95% of them in the gut.
The gut microbiome is essential to the body's normal homeostasis – the stability of its functions – but can trigger multifactorial diseases if it becomes unbalanced. These multifactorial diseases can be combated by multitarget therapies of the kind developed by the startup's researchers, in which bioactive molecules from plants are used to modulate biological targets both directly (as do traditional pharmaceuticals) and also indirectly via concomitant modulation of the microbiome, explained Stephani Saverio, co-founder of Nintx and a member of its board.
"We want to develop plant-based medications and nutraceuticals based on Brazilian biodiversity and with significant impacts on the treatment of unmet medical needs, such as irritable bowel syndrome or ulcerative colitis, for which there's a clear lack of therapeutic options," he said.
Multiple targets
Recent research has shown that besides directly modulating biological targets, plants can also target them indirectly via the gut microbiome. Plant metabolites, for example, can be modified by the action of enzymes in the gut microbiome to create bioactive molecules. The gut microbiome can also produce metabolites, such as short-chain fatty acids, by processing plant metabolites.
The composition of the gut microbiome can be changed by administering plant metabolites, increasing the population of symbiotic microorganisms to the detriment of pathogenic microorganisms. Biological targets can be modulated in all these ways.
Advances in the understanding of these mechanisms for indirect modulation of biological targets via modulation of the gut microbiome can help elucidate, for example, why plant-based medications work for some patients and not for others, as the human microbiome varies considerably from one person to another, explained Cristiano Guimarães, co-founder and Chief Scientific Officer (CSO) of Nintx.
"Ignorance of this role of the gut microbiome and the resulting erratic effectiveness have stigmatized plant-based medications but not the potential of plants. Growing knowledge of the indirect modulation of biological targets via the gut microbiome gives us a huge opportunity to promote the re-emergence of drug discovery centering on plant-based natural products."
To advance knowledge of how natural products can positively affect the gut microbiome, Nintx's researchers have developed a proprietary technology called xGIbiomics® that closely emulates the gastrointestinal system and human gut microbiome. Processed fecal inoculates transfer patient microbiota into a device that simulates the functioning of the stomach, the small intestine and three parts of the colon. The researchers then assess the effects of plant-derived active principles on the composition and metabolism of the microbiome by means of metagenomics and metabolomics, studying the pathways to be followed in treating certain diseases.
"The technology enables us to understand better the potential of specific natural ingredients as microbiome modulators. It also enables us to think about ways to protect the microbiome more efficiently from the action of enzymes and tensioactive bile acids. The modulator is released at the desired site of the gastrointestinal tract so that it can be profitably used by the resident microbiota and perform the expected physiological role," said Miller Freitas, co-founder and CEO of Nintx.
In partnership with Peter Andersen, President and CEO of Centroflora, one of the world's most experienced companies in plant extract production, the founders of Nintx built a research laboratory, led by Katia Sivieri, to house the technology at the company's R&D center in Techno Park, Campinas, São Paulo state. Andersen became a partner and completed the round of seed investment in Nintx.
In January 2023, Centroflora and Nintx announced that they had identified a herbaceous plant in the Amazon Rainforest with the potential to combat a global multifactorial disease in an undisclosed therapeutic area. Under the agreement, after joint completion of discovery, preclinical trials, scale-up and formulation of the active ingredient, Nintx will continue developing and commercialize the derived therapy, while Centroflora will be the exclusive supplier of the active pharmaceutical ingredient or feedstock based on the plant.
"We're sure this collaboration will produce a fantastic therapy, which will benefit not only patients but also family farmers and the environment," Anderson said in a press release.
In partnership with Phytobios, a member company of the Centroflora group, CNPEM constructed a library of natural products obtained by bioprospecting in Brazilian biomes, with more than 7,000 plant extracts, fractions and molecules.
Nintx's and CNPEM's researchers are now collaborating on three projects to develop therapies based on the multitarget concept pursued by the startup. CNPEM is screening the library for bioactive molecules that directly modulate biological targets of interest, while Nintx is using xGIbiomics® to screen for bioactive molecules that modulate the gut microbiome.
Brazilian synchrotron
To find out which molecules in natural extracts interact with therapeutic targets, the researchers at CNPEM use a number of analytical technologies, one of which is synchrotron light.
A synchrotron is a circular particle accelerator in which electrons moving at almost the speed of light produce very bright electromagnetic radiation called synchrotron light, which scientists use to probe the molecular and atomic structure of materials. CNPEM's synchrotron is called Sirius.
One of its research stations is an X-ray beamline that can be used to see which molecules interact with target proteins, supplying ideas for drug development. The researchers at CNPEM working with Nintx produce crystals of target proteins and coat them with natural extracts from the library. Each crystal binds to the bioactive molecule in the natural extract, and the molecule then travels out until it finds the active site in the target protein.
"This process of X-ray crystallography and elucidation of the molecule/target protein structure used to take months or even years. Scientific and technological advances such as Sirius have made it possible in just a few days," Guimarães said.
Nintx's projects with CNPEM include the development of an antiviral. The project is making rapid progress and will soon embark on the late discovery stage. "Novel antiviral solutions are increasingly necessary. This project with CNPEM has the potential to develop a highly effective drug derived from Brazilian biodiversity for use against several targets," Saverio said.
The startup's pipeline currently comprises eight projects. Of these, the most advanced project relates to the use of a natural product from Brazilian biodiversity to modulate the gut microbiota of patients with an undisclosed cardiometabolic disease. Nintx is collaborating with Adeste on this project.
"We have several projects that address unmet medical needs and want to license these projects to global pharmaceutical companies," Guimarães said.
Source: https://agencia.fapesp.br/41257