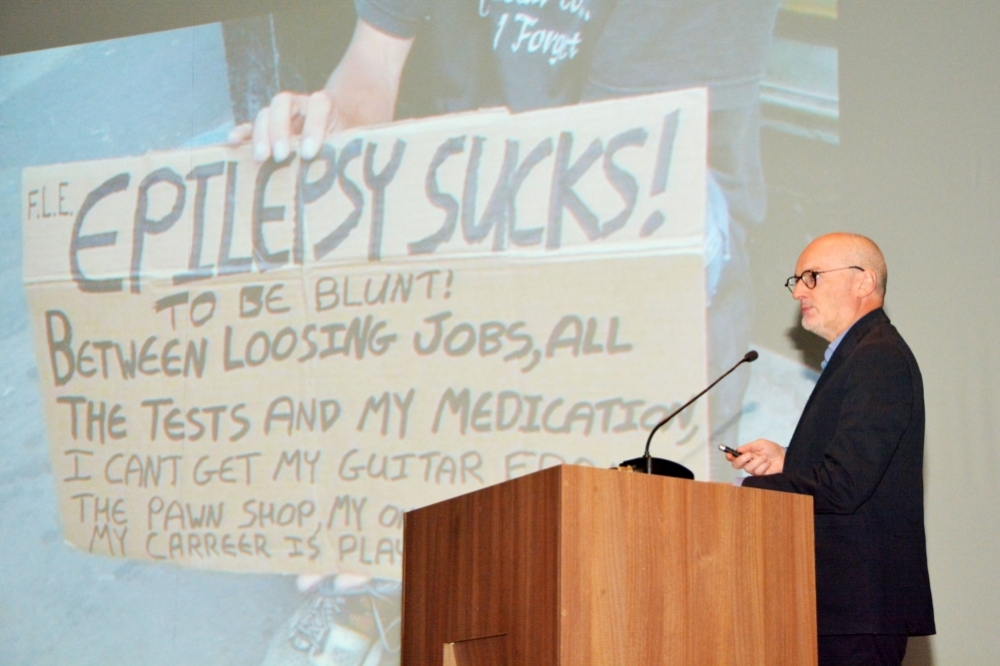 Implantable devices which could improve the quality of patients' lives – Australian-made and still under tests – were presented to the congress of BRAINN, a FAPESP-funded Research, Innovation and Dissemination Center (photo: UNICAMP)
Published on 05/13/2021
By Maria Fernanda Ziegler  |  Agência FAPESP – Researchers in Australia are developing implantable electronic devices for patients with epilepsy. The goal is to predict seizures and determine their frequency. In the future, they may also be designed to release drugs that prevent episodes from occurring at all. The devices are not yet on sale, but some are already being tested in humans.
Epilepsy affects approximately 1% of the world's population. It is highly stigmatized, and its causes and mechanisms are poorly understood. For some reason, which may be genetic or environmental, a group of brain cells become overactive and their electrical signals become disorganized, often leading to memory loss and seizures.
"Epilepsy isn't a rare disease. It has many adverse effects on people's lives. Patients need to know their brain has an electricity problem that can be foreseen, monitored and treated. This removes all the mystery from the disease, which unfortunately for patients is shrouded in ignorance and superstition," said Mark Cook, a professor at the University of Melbourne in Australia and head of the Neurology Department at St. Vincent's Hospital, also in Melbourne.
In April 2019, Cook delivered a talk to the Sixth Congress of the Brazilian Neuroscience and Neurotechnology Institute (BRAINN) at the University of Campinas (UNICAMP) in São Paulo State. BRAINN is one of the Research, Innovation and Dissemination Centers (RIDCs) supported by FAPESP.
In his presentation, Cook described the new devices, which in his view will improve the quality of the lives of people with epilepsy in the future. He also spoke about his latest research findings on seizure patterns in epileptic patients.
"Every patient has a specific pattern. We have demonstrated this. Therefore, imagine being able to predict when one of these episodes will happen. People would be able to protect themselves by staying at home with company instead of engaging in some risky activity on that particular day," Cook told Agência FAPESP.
The new devices are mainly intended to be used to predict seizures and are being developed by Melbourne's Bionics Institute in partnership with the University of Melbourne and St. Vincent's Hospital. The institute receives donations, and Cook himself raised funds by participating in the "Shark Tank Miami" TV reality show on which entrepreneurs pitched their companies to multimillionaire investors. Cook won a special epilepsy edition of the show in 2015.
Prediction
"There are two ways to detect a seizure. In one, you read the brain signal and analyze the electrical signature that occurs before a seizure. The other entails monitoring seizures for a certain period and identifying a pattern. Once you've found the pattern, you can predict seizures very accurately," Cook said.
For the first method, in which electrical signals are detected, implantable devices are being developed to deliver drugs. One was implanted two years ago in Australia. The patient responded well to the treatment.
The researchers are developing an electroshock therapy device with implantable electrodes, but clinical trials have not yet been scheduled. Epilepsy can also be treated surgically in some cases. To monitor seizures and detect patterns, they have developed scalp implants and ear implants similar to cochlear implants for the deaf.
"We realized that if we could count seizures reliably, we'd be able to identify monthly, weekly or daily patterns for each patient. This would help bolster patients' confidence to do their everyday activities and help them avoid embarrassment," Cook said.
Using databases such as Seizure Tracker and NeuroVista, Cook and his team concluded that seizures occurred at one-day intervals for more than 80% of patients. In a smaller proportion, intervals ranged from one to three weeks or more.
"An understanding of these patterns can have significant implications for people, helping them run their lives and predict crises. Usually, patients are encouraged to keep a log or use a smartphone app to record the dates and times of seizures. However, this has proven to be highly inaccurate because seizures can cause memory loss and unconsciousness. The patient is often unaware that a minor lapse has occurred," Cook said.
Implantable devices are far more accurate than diaries or logbooks. They can be used for long periods and enable health professionals to cross-reference seizure data to potentially related external factors such as temperature, humidity, stress, diet or drugs. Clinical trials are scheduled to begin in the second half of 2019.
According to Cook, all these devices were originally designed for epilepsy, but they could also be used in other ways, such as to control blood sugar in diabetics, for example. 
Source: https://agencia.fapesp.br/30620