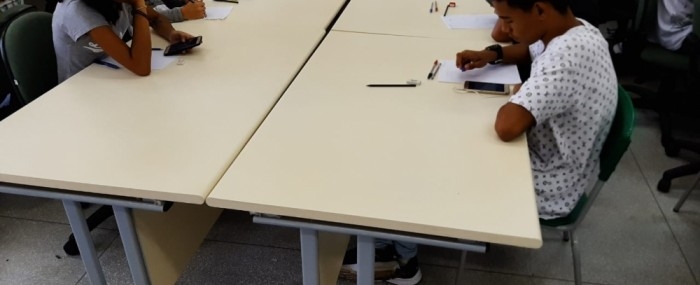 Tool developed by a firm supported by FAPESP is being used to assess student learning in primary and secondary schools in the state of São Paulo (photo: Aptor Software)
Published on 03/25/2021
By Eduardo Geraque  |  FAPESP Innovative R&D – Since last year, several public primary and secondary schools in the city of São Carlos, in the state of São Paulo, Brazil, have been using a pilot digital scheme to grade students on computers, tablets and smartphones. The paperless platform saves printing costs while also speeding up the process of marking tests and entering scores into the system.
The solution was developed by Aptor Software, a spinoff from the Center for Research and Development of Functional Materials (CDMF), one of the Research, Innovation and Dissemination Centers (RIDCs) supported by FAPESP.
The system, called Meta-SP, was successfully trialed in 2019 when some 30,000 students used it to take tests set by public schools four times a year to assess learning in progress ("AAP").
Local educational authorities use the AAP test scores for reading, writing, arithmetic and logic to improve classroom methods and develop projects designed to hone students' competencies and skills in accordance with their grade or year.
A statistical study based on test data collected by the digital platform showed that it is a highly effective tool.
"We found that 86.6% of the comparison parameters came within the expected variation interval, taking into account the diversity of participating students and schools," said Leandro Agostini do Amaral, a managing partner of Aptor.
According to Amaral, the system works with multiple choice questions and includes security routines that prevent cheating and make it 100% reliable.
After the last year's evaluations, it was again used officially for 10,000 tests taken in public schools in São Carlos.
In addition to benefits in terms of reduced logistics and staffing for invigilation, Amaral explained, the digital platform significantly reduces the environmental impact of these procedures by eliminating the need for printed tests.
"We reckon 706,000 sheets of paper were economized in last year's AAP tests thanks to the digital platform. That means 47,052 trees were saved," he said.
Cognitive improvement in the elderly
In another Aptor project supported by FAPESP via its Innovative Research in Small Business Program (PIPE), the company is developing an accessible gaming platform for cognitive training among elderly people.
In the first phase of the project, which began in 2016, the researchers applied adaptive tests to identify and validate the best gaming strategies to support quality of life for the elderly. The second phase, now underway, entails commercializing the platform.
"We identified an opportunity to develop games for the elderly from a survey of home carers we conducted," Amaral said.
In the survey, the carers reported that elderly people who are hospitalized for several days display a regression in cognitive function after returning home. This is because while they are in hospitals, they do not continue to engage in activities that keep their brains working as they did at home.
"This led to the idea of developing a platform that could also be used in confined spaces like hospitals," Amaral said.
The games are designed to test the brain's executive functions and memory in the elderly to delay cognitive decline as aging progresses.
The firm has also developed educational games for children and young adults in recent years. One example is Ludo Educativo.
"When we founded the firm in 2005, our only goal was to create a system to manage events hosted by scientific associations. We did so, and this system is still part of our product portfolios. As time passed, we explored new opportunities," Amaral said.
Source: https://agencia.fapesp.br/32891