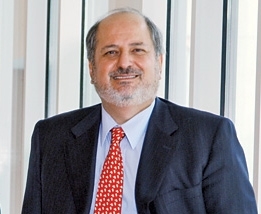 Raymond Schinazi, the US-based researcher famous for helping develop drugs against HIV/AIDS and hepatitis B and C, says Brazil has significant potential to create innovative health startups (photo: Emory University)
Published on 05/12/2021
By André Julião  |  Agência FAPESP – Brazil has the qualified professionals, infrastructure, and economic and social motivation to provide support for the creation of innovative health startups. However, this effort requires investment by government, philanthropists and large corporations, according to Raymond Schinazi, a professor at Emory University in the United States.
Schinazi was visiting Brazil to take part in Innovation in Drug Discovery and Development 2019, a symposium held on May 14 at the University of São Paulo's Radiology Institute (InRad), part of the university's medical school and attached to Hospital das Clínicas, its teaching and general hospital (HC-FMUSP).
Schinazi is an organic medical chemist best known for his contributions to the development of innovative drugs against HIV and hepatitis B and C. He is also the founder of several pharmaceutical companies.
"You have great scientists, great minds and plenty of motivation, not just financial but also to promote the public good. I've seen the hospitals you've created, the labs, the equipment you've invested in. I believe your country will recover from the present economic situation and become highly successful," Schinazi told Agência FAPESP.
The symposium on innovation in drug development and Schinazi's visit to Brazil were part of the project "Discussion of research projects involving chronic hepatitis B and C antiviral treatment", supported by FAPESP and Emory University under the aegis of the program São Paulo Researchers in International Collaboration (SPRINT).
Schinazi became famous for creating anti-HIV drugs analogous to nucleosides and nucleotides, components of DNA and RNA. Synthetic versions of these molecules are modified to make the virus stop replicating. Two compounds he created, 3TC (also used to treat hepatitis B) and FTC, are present in some of the drug "cocktails" most widely used against HIV, such as Combivir, Trizivir, Truvada and Atripla.
"Schinazi is one of the greatest examples of innovation, and we invited him in order to encourage the people who work here," said Suzane Kioko Ono, a professor at the FMUSP medical school and coordinator of the event.
Ono is collaborating with Schinazi on the development of drugs to treat hepatitis B, a disease with 257 million cases worldwide, according to the World Health Organization (WHO). She is also affiliated with the Center for Technological Innovation (CITIC) at the Central Institute of Hospital das Clínicas, a hub for partnerships with private enterprise, investor attraction and entrepreneurial ventures to develop innovative products and high-tech systems for healthcare.
According to Ono, public-private partnerships in Brazil can be devised from the start of a project, involving a range of initiatives from the donation of reagents to the sharing of laboratories in both academia and industry.
"In the specific case of hepatitis B, once a compound has been identified as a potential antiviral, in vitro and in vivo studies have to be conducted to prove it's safe and can be tested in clinical trials. At that point, it's important to partner with the pharmaceutical industry to perform trials with volunteers all the way through to final approval," Ono said.
Discovery of new drugs
Partnerships between universities and business to develop innovative products have achieved significant advances. The Center of Excellence in New Target Discovery (CENTD), an Engineering Research Center (ERC) set up by FAPESP and GlaxoSmithKlein (GSK) at Butantan Institute in São Paulo, has the mission of identifying molecular targets and signaling pathways involved in inflammation-based diseases.
Ana Marisa Chudzinski-Tavassi, CENTD's principal investigator, told the symposium about the research lines developed by the center and its funding model.
"Our strategy is to use venoms and animal secretions as a tool to discover new molecular targets," she said. "These are highly interesting and complex substances, in which we can find target-specific proteins and inhibitors, among others. Venoms can be applied to various physiological systems, such as coagulation, the immune system and local reactions. We work with all of them."
In the US, Schinazi said, research partnerships involve not only companies but also philanthropy. This model could be applied more widely in Brazil, he opined.
"Philanthropy is extremely important. There are very wealthy people in Brazil, and they would certainly like to see their money going further. When I visited Albert Einstein Hospital, I noticed that it has better equipment and labs than some US facilities, thanks to donations by rich families," Schinazi said.
Nevertheless, he added, public funding remains essential to sustain research and continue driving the country's development.
"In the US, we have the National Institutes of Health [NIH], which spends billions of dollars on research every year. I think it's fantastic and this should be a model," he said. This year NIH has been awarded an extra US$2 billion, taking its 2019 budget to US$39.1 billion.
Other speakers at the symposium included Ricardo di Lazzaro and Pedro Henrique Camargo Penna, co-founders of health startup NAIAD; Dan Salazar, Chief Science Officer at EMS, a leading Brazilian pharmaceutical company; and Jaime Rabi, Executive Director of Microbiológica Química e Farmacêutica.
"This meeting got the ball rolling. We hope to continue the dialogue and present more results soon," Ono said.
Source: https://agencia.fapesp.br/30732