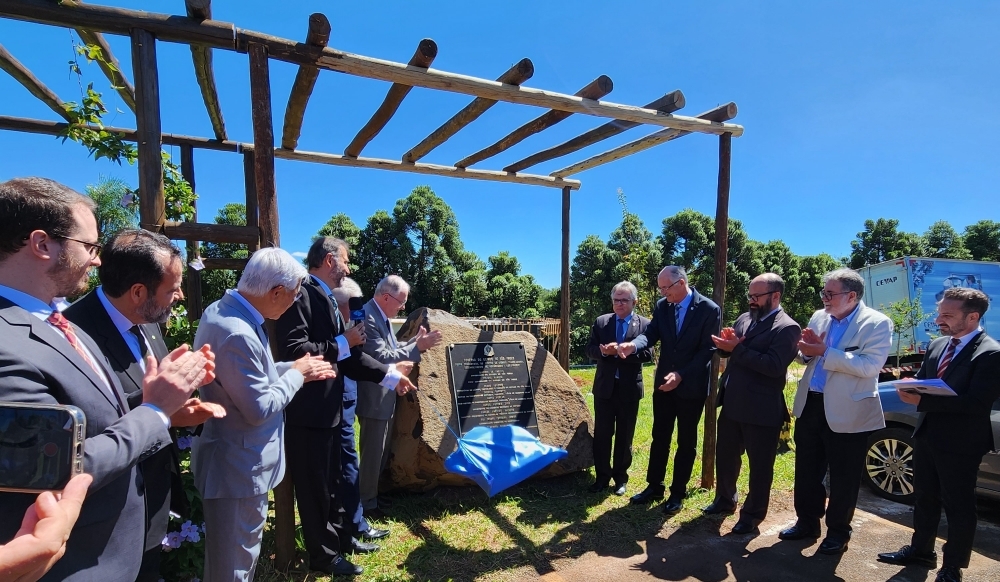 Rui Seabra Ferreira Júnior and Benedito Barraviera, researchers at São Paulo State University, unveiling the inaugural plaque for the Center for Translational Science and Development of Biopharmaceuticals (photo: Karina Toledo/Agência FAPESP)
Published on 04/24/2023
By Karina Toledo in Botucatu  |  Agência FAPESP – Building a bridge between basic and applied research, and helping researchers and startups that innovate boldly in the field of health survive the "death valley curve" in clinical research, a phase when most projects die without reaching the market: these are the aims of the new Center for Translational Science and Development of Biopharmaceuticals launched April 10 on the Botucatu campus of São Paulo State University (UNESP).
Supported by FAPESP under the aegis of its Science for Development Center (SDC) Program, this unit dedicated to translational research will be hosted by UNESP's Center for Studies of Venom and Venomous Animals (CEVAP) at Lageado Experimental Farm.
"Production of biopharmaceuticals – biological molecules with therapeutic or preventive power such as vaccines, antivenoms and monoclonal antibodies – represents a market worth USD 300 billion, and Brazil spends a great deal of money to buy these products. It's not just a matter of money. These substances are strategic to national security, as was clearly evidenced during the pandemic. Countries that produce vaccines prioritize their own needs and those of their friends. Only then do they consider other buyers. Developing competencies in this area is therefore a question of national security," said Marco Antonio Zago, President of FAPESP, during the ceremony held to launch the center.
FAPESP's new SDC will operate in synergy with a school and factory to produce samples of biopharmaceuticals for clinical research. The facility is under construction next door to CEVAP and is scheduled to start operating next year.
"Construction of the biopharmaceutical plant has funding from the Ministry of Health, and more recently we applied to the Ministry of Science, Technology and Innovation [MCTI] for help to purchase equipment. UNESP is paying the staff's salaries, and now FAPESP has guaranteed the research funding. We plan to select candidate biopharmaceuticals that have passed the basic research stage and advance them to the preclinical trial stage, followed, if possible, by clinical trials," Rui Seabra Ferreira Júnior, CEVAP's executive coordinator and principal investigator for the new SDC, told Agência FAPESP.
According to Ferreira Júnior, the factory will focus on monoclonal antibodies – proteins similar to those secreted by human immune cells – mass-producing them in the laboratory for the purpose of diagnosing and treating several diseases. 
"Between 100 and 120 patents on biological medications will expire in the years ahead. This represents a significant opportunity for our country," he said. "We want to develop biosimilars for clinical trials that can lead to validation for these products. We're also interested in meeting demand for orphan drugs, which represent a huge cost for the SUS [Sistema Único de Saúde, Brazil's national health service]." Orphan drugs, which treat rare medical conditions, are produced on a small scale and can be very expensive. Orphan diseases usually have few treatment options owing to lack of investment in drug research.
The new center will function as a contract development and manufacturing organization (CDMO), producing pilot batches of biopharmaceuticals and vaccines for use in clinical trials by institutions in the private or public sectors.
Besides UNESP, the initiative also involves the University of São Paulo (USP), the Federal University of São Paulo (UNIFESP), Biological Institute (IB-APTA), Adolfo Lutz Institute (IAL) and Emílio Ribas Institute (IER).
"A recent issue of Nature included a review of 45 million scientific articles published since 1950 as well as almost 4 million patents. The growth of science in the field of health has been amazing, in terms of both articles and patents. On the other hand, comparatively little of all this has been converted into products. Translational research is rarified, and that's exactly what we will be doing. We want to pursue a productive academic-economic cycle, with robust and focused basic research at the knowledge frontier, and advanced infrastructure capable of surviving 'death valley' to develop economically viable and scalable products," said Benedito Barraviera, a professor at the Botucatu Medical School (FMB-UNESP). He founded CEVAP 30 years ago and will now head FAPESP's new SDC.
The center will train professionals to specialize in translational research, he added, and produce samples of candidate biopharmaceuticals in accordance with the best practice criteria for clinical trials established by ANVISA, Brazil's national health surveillance authority.
Strategic importance
During the launch ceremony for the new center, Zago explained that the main aim of the Science for Development Centers funded by FAPESP is to produce scientific and technological solutions for the bottlenecks to development in São Paulo state, with the participation of research institutions and universities, as well as departments and other parts of the state government. 
"This project of CEVAP's is strategic," he said. "Development of biopharmaceuticals has to be part of our strategy to face future biological threats."
Zago recalled that São Paulo already has Butantan Institute, Brazil's leading producer of vaccines alongside Oswaldo Cruz Foundation (FIOCRUZ) in Rio de Janeiro, noting that both have large factories yet are unable to meet all the nation's needs. "Butantan Institute's production lines can't be stopped all the time to test potential new products, which have to be produced in moderate volumes for testing and validation, but even so these volumes are very large compared to what experimental laboratories can produce. This is fundamental and it's where CEVAP comes in," he said.
"We're developing a framework for the state to have a production structure capable of the same high quality achieved by many laboratories in São Paulo, with the additional processes required in order for products to reach pharmacies and hospitals. This will be the new center's role. It's a segment in which we have a large gap to fill."
Commenting on the international outlook for science, technology and innovation, Carlos Américo Pacheco, CEO of FAPESP, highlighted renewable energy, sustainability and biotechnology as areas in which Brazil is strongly competitive and can gain market share. "We're in a time when rivalry between countries, especially China and the United States, is particularly intense," he said. "The pandemic brought to light a number of supply chain difficulties in critical sectors. The healthcare supply chain was among those that suffered the most, and it's one where Brazil has significant opportunities. We must fill the gaps, however. One of the most important of these is lack of infrastructure to produce basic inputs for preclinical trials.
"The number of biotech startups in Brazil is growing at an impressive rate, but they lack the facilities found in other parts of the world to be able to develop and achieve scale. This kind of structure that's open to outside users is extremely valuable to us. I hope biotech investment funds will join this center. It's a huge opportunity. It can be an extraordinarily important facility of nationwide relevance for the kind of challenge we face."
Other participants in the event included Senator Marcos Pontes; Mário Pardini, Mayor of Botucatu; Leandro Pedron, head of MCTI's Department of Thematic Programs; Carlos Graeff, responsible for higher education at the São Paulo State Department of Science, Technology and Innovation; Pasqual Barretti, Rector of UNESP; and Estevão Kimpara, UNESP's Pro-Rector of Strategic Planning and Management.
Source: https://agencia.fapesp.br/41208