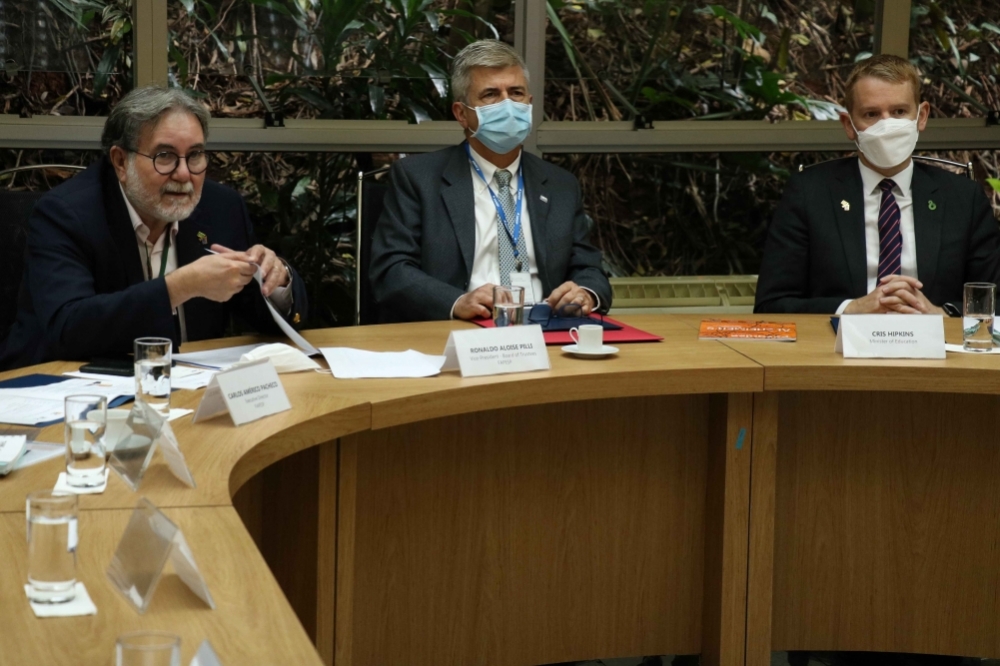 A delegation from New Zealand led by Education Minister Chris Hipkins (right) visited FAPESP to discuss new partnerships and areas of interest shared by the two countries (photo: Felipe Maeda/Agência FAPESP)
Published on 06/27/2022
By José Tadeu Arantes  |  Agência FAPESP – With an area of 268,000 square kilometers, about 10% more than that of São Paulo state (or the United Kingdom), and a population of 5,130,730, about a quarter of the population of metropolitan São Paulo, New Zealand has one of the world's highest levels of educational attainment, ranking seventh on this criterion according to the Organization for Economic Cooperation and Development (OECD). Adult literacy is 99%, and over half of New Zealanders in the 15-29 age group have access to higher education (universities, polytechnics and the like).
In 2017, Universities New Zealand – Te Pokai Tara (UNZ), an association of the country's eight universities, and FAPESP signed an agreement to implement scientific and technological cooperation between researchers affiliated to institutions in São Paulo state and New Zealand. In 2019, they issued a public call for proposals to support an exchange of professionals under the aegis of FAPESP's São Paulo Researchers in International Collaboration Program (SPRINT).
On June 3, 2022, a delegation from New Zealand led by Education Minister Chris Hipkins visited FAPESP to strengthen the relationship and discuss new opportunities for cooperation. The delegation was welcomed by Carlos Américo Pacheco, FAPESP's Chief Executive Officer; Ronaldo Aloise Pilli, its Vice President; and Roberto Marcondes Junior, a member of FAPESP's Research, Innovation and Dissemination Center (RIDC) Program steering committee and Adjunct Panel for Special Research Programs and Collaborations.
Pilli stressed FAPESP's commitment to the internationalization of research, embodied in cooperation agreements with more than 150 organizations worldwide. Pacheco presented an overview of FAPESP, highlighting new initiatives such as the Amazon+10 Fund, and Marcondes presented the RIDC program, among others.
On the New Zealand side, Hipkins mentioned areas of interest shared with Brazil. "Our visit to São Paulo has reinforced my views on the value of education and scientific cooperation between our two countries. A good example is the cooperation agreement between UNZ and FAPESP, which is jointly funding new research projects to stimulate academic exchange and mobility between New Zealand and Brazil," he told Agência FAPESP.
Another example he mentioned in the interview was participation by both countries in the Global Research Alliance on Agricultural Greenhouse Gases (GRA). "The GRA focuses on research and development to establish climate-resilient food systems without increasing greenhouse gas emissions. Exchanges and training opportunities for agricultural researchers are facilitated by scholarships," he said.
Before the pandemic, Brazil was the leading source of Latin American students in New Zealand, and 109 of the 400 New Zealand students funded by the government's Latin American scholarship program chose to study in Brazil. Exchanges were put on hold during the pandemic but have recently resumed. "I'm very happy about the resumption, and also about the refinements made to the program to include studies on Indigenous people from Latin America," Hipkins said.
The Indigenous issue, indeed, is important to Hipkins and his government. "As countries that focus on preserving and strengthening our Indigenous cultures, New Zealand and Brazil have a lot to learn from each other," he said. "Research collaboration is ongoing in the important field of revitalizing Indigenous languages. An agreement between Massey University and the Federal University of Rio de Janeiro is supporting the revitalization of Kaingang, an endangered language belonging to the Jê family and spoken by some 20,000 people in the South of Brazil."
The project was inspired by a successful Kiwi educational initiative known as Te Kohanga Reo (Maori Language Nest). It is worth recalling that the Maori language suffered a decline from the 1940s to the 1980s, becoming confined to a few remote areas. It has since been revived and in 1987 was declared an official language of New Zealand alongside English. There are now schools that use only Maori and television channels with mainly Maori programming.
"A Kaingang language nest has been established at Nonoai, a town in Rio Grande do Sul where at least half the adult population speaks Kaingang. As the project progresses, the nest at Nonoai is expected to encourage people from other towns and villages to transmit knowledge of the Kaingang language and culture to their children. It should be stressed, however, that reciprocity is a key aspect of collaboration between our two countries. It's not just about what Brazil can learn from us. It's also about what we can learn from Brazil," Hipkins said. 
"In the initial stage, which has been under way for several years, we're focusing on establishing and strengthening the links and partnerships between universities and academics in both countries. As we move forward, we believe opportunities will arise to identify challenges and common interests that can benefit from this collaboration. For example, both New Zealand and Brazil are major food producers, and we have similar interests with regard to agriculture. We face common challenges in this area, such as the impact of agricultural greenhouse gas emissions. I'm confident that other areas of interest will crop up as government agencies, academic institutions and the various sectors of science and research become involved in the process."
Talks on new cooperation projects are still incipient, but the New Zealanders have announced that they will participate in the next SPRINT call, scheduled for 2023.
Source: https://agencia.fapesp.br/38977