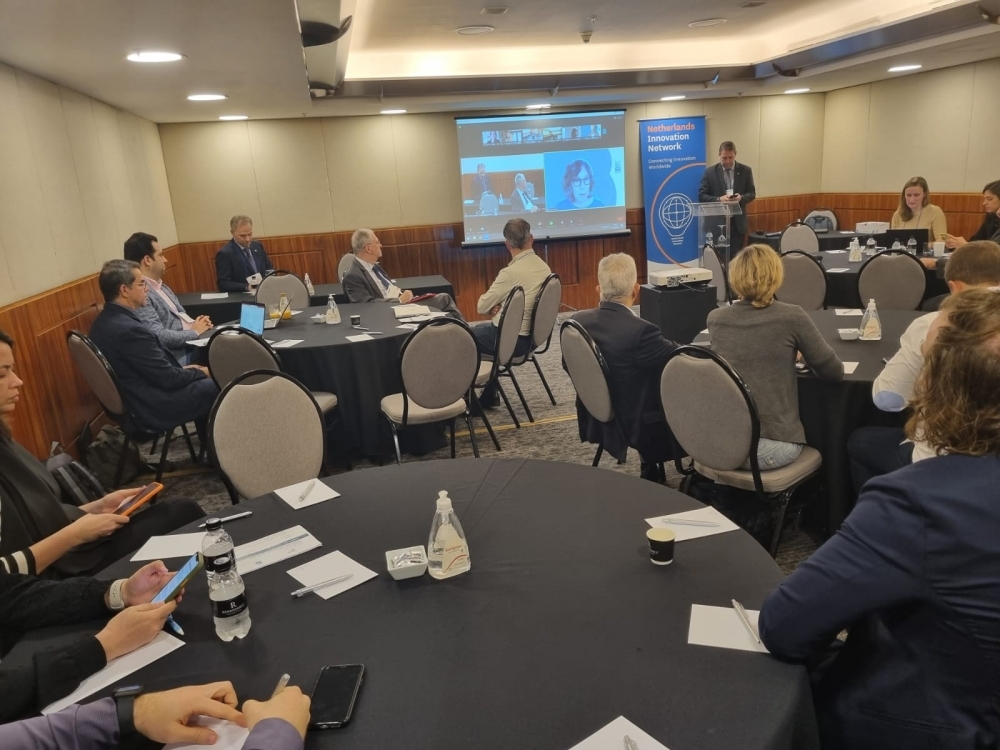 At a meeting held in São Paulo city, researchers from the Brazilian state of São Paulo and the Netherlands described their work on the development of prosthetics and other implantable biomaterials. FAPESP will invest BRL 15.2 million to fund the projects selected in the call (photo: Vera Sirin/Agência FAPESP)
Published on 10/24/2022
By André Julião  |  Agência FAPESP – Materials that can be implanted in people to perform lost functions without rejection or infection are targets for some of the most promising research lines in the field of health sciences, involving engineers, biologists and physicians as well as other specialists around the world.
To promote partnerships among researchers based in São Paulo state and the Netherlands in projects that offer significant advances in the field, FAPESP and the Netherlands Organization for Scientific Research (NWO) have issued a joint call for proposals entitled "Designer biomaterials: advanced materials for health". On October 6, an online meeting was held for researchers from São Paulo and the Netherlands to discuss their current work on these materials.
"In addition to a solid scientific foundation, we're looking for joint proposals that focus on innovation and interdisciplinarity, particularly in healthcare and materials science research. Alongside NWO, the call is supported by the Merian Fund, a fund for international cooperation with emerging science nations. FAPESP is now the main partner for Merian Fund projects in Brazil," Marco Antonio Zago, President of FAPESP, said on opening the event.
"This is the ninth joint call by FAPESP and NWO, showing the long history we have together. We have normally issued calls on matters relating to nature and natural resources, but we're now issuing this one on advanced healthcare materials," said Anita Hardon, a member of NWO's Executive Board.
For Robert Thijssen, Counselor for Innovation, Technology and Science at the Consulate General of the Netherlands in São Paulo, the meeting was just one of the activities undertaken by Dutch diplomats to strengthen ties with Brazil in this area.
"In the same week as this meeting, a delegation of researchers visited companies and universities in São Paulo," he said, adding that some 80 people from the Netherlands attended the event in person in São Paulo or participated online.
José Roberto de França Arruda, a member of FAPESP's Adjunct Panel on Special Programs and Research Collaboration, explained that the call is eminently multidisciplinary and covers a broad spectrum of physical, biological and chemical sciences necessary to the development of biomaterials and the clinical disciplines in which these materials are used. Proposals should be holistic, encompassing both basic and applied research. "They can also include companies and other partners," he said.
The various projects presented included one described by Mauro Salles, a professor at the Federal University of São Paulo's Medical School (EPM-UNIFESP). Salles spoke about the research he is conducting with FAPESP's support. "The project entails an analysis of the microorganisms responsible for orthopedic device-related infections, including those associated with implants of novel biomaterials," he told Agência FAPESP. "Bone infections are hard to treat with conventional antibiotics. We aim to find out how microorganisms defend themselves and how biomaterials can combat them. This is an opportunity for collaboration, reinforcing the partnership we already have with the University of Maastricht."
"A positive aspect of the meeting was the presence of people from industry and small enterprises. This is interesting and FAPESP wants to see more of it. NWO is helping us a great deal. The private sector is very important, especially to this call," said Alexandre Roccatto, Coordinator of Scientific Programs for FAPESP's Office for Research Collaboration, which is part of its Scientific Directorate. 
FAPESP has allocated BRL 15.2 million to the call, while NWO will invest € 2.8 million.
The deadline for submission of pre-proposals is November 10. Pre-approved projects must be submitted by June 6, 2023.
More details of the call can be found at: fapesp.br/files/upload/15563/nwo2022.pdf.  
Source: https://agencia.fapesp.br/39882