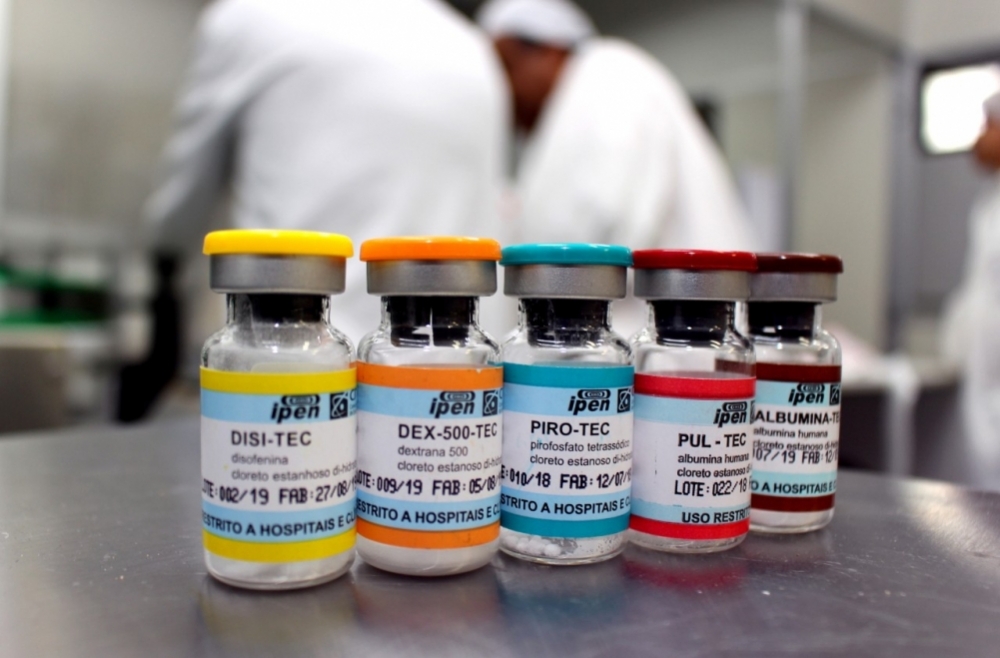 With FAPESP's support, the Nuclear and Energy Research Institute is assembling a world-class laboratory that associates nanotechnology with radiopharmacy. The aim is to develop new products, mainly for cancer treatment (photo: E. R. Paiva/IPEN-CNEN)
Published on 03/16/2021
By José Tadeu Arantes  |  Agência FAPESP – The 60-year-old Nuclear and Energy Research Institute (IPEN), an agency of the São Paulo State Department of Economic Development, currently produces some 90% of the radiopharmaceuticals used in Brazil. Simply put, radiopharmaceuticals are biological molecules bound to radioactive isotopes of chemical elements (often iodine, fluorine or technetium). Depending on their composition, they are used to diagnose or treat diseases, especially cancer. IPEN's regular output goes to 430 hospitals and clinics throughout Brazil, and is used in 2 million procedures per year. Between 30% and 40% of the products it turns out are supplied to medical teams working for the SUS (Sistema Único de Saúde), Brazil's national health service.
"Demand is very strong, and we used not to be able to do research without halting production, but thanks to funding from FAPESP we're now creating a specific research space for the first time," said Marcelo Linardi, IPEN's 2019 Emeritus Researcher. "The laboratory is in the final stage of assembly despite delays due to the pandemic and local currency depreciation. We focus on developing new products by combining nanotechnology and radiopharmacy. We've produced some 50 articles on the subject, published in high-impact international journals."
Linardi is the principal investigator for the project "Scientific, technological and infrastructure qualification in radiopharmaceuticals, radiation and entrepreneurship for health purposes", supported by FAPESP under the auspices of its State Research Institute Modernization Program. Besides IPEN, the program is supporting modernization and training at 11 other state research institutions, for a total of BRL 120 million.
IPEN will receive BRL 16 million for investment in infrastructure and acquisition of multi-user equipment, including an STM/AFM Raman scanning optical microscopy system and a digital mammograph, among other items; and for research grants (two of which will go to visiting researchers from abroad) and scholarships (eight postdoctoral, two doctoral, two master's, and one research scholarship abroad).
"The jewel in the crown in terms of equipment is a laser microscope with sub-nanometer resolution, purchased via the project. It's the third of its kind in the world. It has the same resolution as an electron microscope but doesn't project electrons and doesn't damage the sample that's being analyzed, which is great for biological samples," Linardi said. "Moreover, the laser beam can be directed in various ways, so that it's possible to focus on the sample from multiple angles."
The new microscope is designed for characterizing materials, and IPEN will use it to help develop two key areas: radiopharmacy and brachytherapy.
Brakhys in Greek means close or near and is the opposite of tele, which means distant. Brachytherapy is a type of internal radiation therapy in which the radiation source is placed inside the body, next to the area requiring treatment. External radiation therapy can damage tissue situated between the source of the radiation beam and the target site, whereas brachytherapy minimizes adverse side-effects. By associating nanotechnology with brachytherapy, IPEN is taking an even more advanced step that places it in the front line of world research.
"We're doing something new. Only two other institutions besides IPEN are working on this research line in the entire world. This new field is called nanobrachytherapy. Nanobrachytherapy spares healthy tissue because at the nanometric scale the molecule containing the radiation source is able to pass through cell membranes and directly enter cancer cells," said Maria Elisa Rostelato, principal investigator for the brachytherapy sub-area of the project.
"So far it's been used only in animal testing worldwide. Our group has produced radioactive nanoparticles and isolated them to prevent them from reaggregating," Rostelato explained. "We're working with gold isotopes, and we're now embarking on the stage known as material characterization, to find out whether the material conserves its properties at the nanoscale. We've applied for a patent. FAPESP's support enabled us to purchase a dynamic light scattering (DLS) sizer, which will be dedicated exclusively to characterization of radioactive nanoparticles."
According to Rostelato, if the gold nanoparticles make it through the "screen" of characterization, the next stage will be in vitro and in vivo testing to see how this potential radiation nano source interacts concretely with the affected tissue. "Our current focus is treating prostate cancer, but this type of material could be used to treat several kinds of cancer."
IPEN is run by the National Nuclear Energy Commission (CNEN) and occupies a cluster of buildings on a 500,000 square meter portion of the University of São Paulo's campus in the city of São Paulo. It has long shown a vocation for groundbreaking research. It is one of the main developers of nuclear medicine in Brazil and other Latin American countries. It not only produces novel radiopharmaceuticals but also designs and manages their distribution. "We have 25 products in our catalog. Many people are familiar with iodine-131 labeled sodium iodide, used to treat thyroid cancer," said Elaine Bortoleti, principal investigator for the radiopharmacy portion of the project supported by FAPESP.
According to Bortoleti, a crucial aspect of radiopharmacy is half-life, the time radioactive components of drugs take to decay. It has to be relatively short because once the material has reached and treated its target, it must decay and be eliminated by the organism instead of continuing to act inside the body. "This entails some complex logistics," she said. "IPEN can now produce and deliver drugs anywhere in Brazil within 48 hours. The actual transportation is performed by accredited haulage firms, which are monitored by IPEN.
"Production is another challenge. It's done by what we call hot cells, which have lead shielding and a negative-pressure air filtering system to prevent leaks or radioactive contamination in the event of an accident."
The production process consists basically of fabricating radioisotopes in a nuclear reactor by bombarding the stable element with neutrons; binding the radioisotope chemically to the organic molecule that will carry it to the region of interest in the organism; executing standard pharmaceutical procedures such as filtration and dilution; and packaging and refrigerating the finished product in a shielded container.
IPEN imports all the radioisotopes it uses because its reactor is a research facility that lacks the capacity for large-scale production. This is a major bottleneck for Brazil, which was severely affected in 2008 when the Canadian reactor that supplied the Brazilian market and 40% of the global market was shut down. Other suppliers were found in Argentina and South Africa, but self-sufficiency will be achieved if and when the Brazilian Multipurpose Reactor gets off the drawing board in Iperó, in the state of São Paulo.
"The modernization project aims to equip the laboratory to produce new pilot radiopharmaceuticals for clinical studies and registration, complying with all the requirements of the National Health Surveillance Agency [ANVISA] in terms of environmental management and safety," Bortoleti said. "We    're already working with fluorine-18 labeled fluorine estradiol molecules for breast cancer therapy monitoring, and fluorine-18 labeled PSNA 1007 for prostate cancer therapy monitoring."
Source: https://agencia.fapesp.br/34679