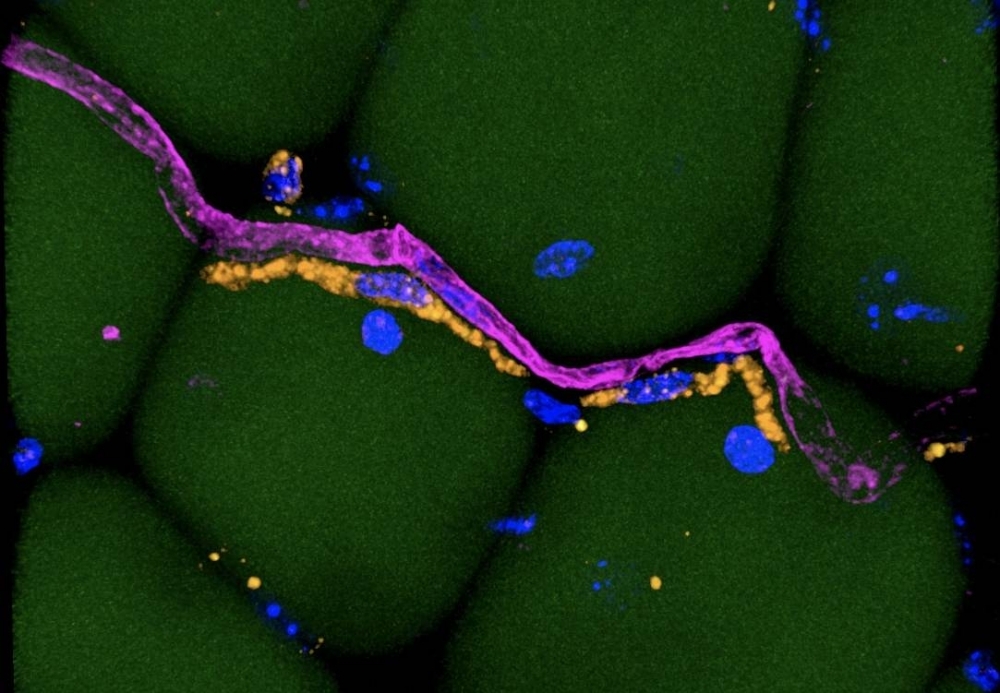 Brazilian researchers are the only Latin American group to have had a project selected in an international request for applications by the Chan Zuckerberg Initiative. Funding of more USD 175,000 has been awarded to the study, which will be the first in Brazil to use single-cell analysis (image: body fat macrophage / Hernandez Moura Silva)
Published on 03/23/2021
By André Julião  |  Agência FAPESP – Brazilian researchers affiliated with the University of Campinas (UNICAMP) in the state of São Paulo and the National Cancer Institute (INCA) in Rio de Janeiro plan to study different populations of macrophages (a type of immune cell) present in the body fat of lean and obese men and women. They aim to glean a deeper understanding of how these cells are involved in the inflammatory process in obese subjects, who are more predisposed to chronic diseases such as diabetes and high blood pressure, as well as complications of COVID-19.
The Brazilian researchers are the only group in Latin America to have a project selected in an international request for applications centering on single-cell analysis of inflammation issued by the Chan Zuckerberg Initiative (CZI), which has granted the project USD 175,000 in funding over a two-year period. 
The group leaders are Marcelo Mori and Pedro Moraes-Vieira, researchers at UNICAMP's Institute of Biology, in partnership with Mariana Boroni, a researcher at INCA.
The UNICAMP researchers recently won funding from FAPESP for research proposals selected in its call for projects involving fast-track supplements against COVID-19. Mori is investigating the role of aging in infection by SARS-CoV-2, while Moraes-Vieira is studying the risk factors associated with the severe form of COVID-19 and mapping the metabolic pathways involved in the body's response to the virus.
Mori and Moraes-Vieira are also affiliated with the Obesity and Comorbidities Research Center (OCRC), one of the Research, Innovation and Dissemination Centers (RIDCs) supported by FAPESP.
In the CZI-funded study, the researchers will analyze each of 10,000 cells taken from subcutaneous and visceral adipose tissue samples to be collected by Elinton Adami Chaim and his team. Chaim is a professor in UNICAMP's Medical School (FCM). Sample collection will begin as soon as the study is approved by the university's research ethics committee.
"We want to determine which molecules differentiate macrophage subpopulations in lean and obese people in order to identify new populations of these cells," Moraes-Vieira said. "We aim to identify molecular markers in each of the 10,000 cells, define subpopulations, and validate our findings by flow cytometry, which will enable us to analyze up to 30 markers per cell concurrently."
UNICAMP's Institute of Biology recently purchased a multiparameter flow cytometer with funding from FAPESP.
Analysis of single cells
CZI was founded in 2015 by physician Priscila Chan and her husband Mark Zuckerberg, the controlling shareholder of Facebook. Single-cell analysis is an incipient technique in Brazil. CZI says it has selected 29 proposals in the call and will invest a total of USD 14 million in the projects, most of which will be conducted in the US.
"Single-cell analysis is a revolutionary approach that in recent years has increased our capacity to understand different cell types in the same tissue," Mori explained. "Gene expression can be determined for every cell in a sample by this technique, and we can enhance the resolution of the analysis by processing tens of thousands of cells."
Conventional tissue analysis to determine gene expression provides an average for all cells in a sample. Single-cell analysis investigates the genomic sequencing information from individual cells, enabling the study of cell identity and behavior within the cell population.
Studies of this kind produce a far larger volume of data than conventional analyses, requiring the use of advanced bioinformatics tools. This part of the project will be led by Boroni at INCA.
The project will also entail the development of a platform at UNICAMP for use by the entire scientific community in the future. Because the technique of single-cell analysis is new to Brazil, the project will acquire equipment and establish protocols to enable this type of analysis to be performed by other Brazilian groups, who will apply the knowledge in different projects of their own.
The experimental data and protocols will be shared via the Human Cell Atlas, a global repository offering comprehensive reference maps of all human cells as a basis for understanding these fundamental units of life and for diagnosing, monitoring and treating disease.
Scientists here have set up a local arm, Human Cell Atlas Brasil, coordinated among others by Helder Nakaya, a professor at the University of São Paulo's School of Pharmaceutical Sciences (FCF-USP). The group held meetings last year to enable researchers in various areas of expertise to network in preparation for submitting competitive proposals to CZI.
In addition to the UNICAMP/INCA group, the groups with projects selected by CZI are from Harvard, Stanford, Yale, University of California and Princeton in the US, Oxford University in the UK, and Max Planck Institute of Immunobiology in Germany, among others.
Source: https://agencia.fapesp.br/33465