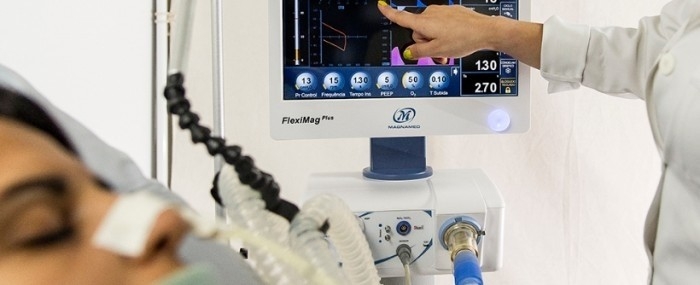 Based in São Paulo, Magnamed will produce 6,500 ventilators by August for use in treating COVID-19 patients, working in partnership with a pool of leading Brazilian and multinational corporations (photo: Magnamed)
Published on 03/25/2021
By Elton Alisson  |  FAPESP Innovative R&D – On April 8, 2020, São Paulo-based Magnamed signed an agreement with Brazil's Health Ministry for the supply of 6,500 mechanical ventilators by August of this year.
The agreement is designed to help meet growing demand for ventilators from hospitals across the country as they struggle to provide critical care for COVID-19 patients.
To achieve this goal, Magnamed will partner with the following companies: Positivo, Brazil's largest computer maker; Suzano, one of the world's leading pulp and paper producers; Klabin, another major pulp and paper company; Embraer, Flextronics, Fiat Chrysler, and White Martins.
"We're honored to be able to help the nation at this time. This will only be possible thanks to the partnerships," said Wataru Ueda, CEO of Magnamed, in a press release.
Magnamed's portable emergency ventilator, OxyMag, was developed with funding from FAPESP's Innovative Research in Small Business Program (PIPE) between 2006 and 2012. 
"Magnamed illustrates the benefits to society of having in São Paulo institutions as significant as ITA [Aeronautical Technology Institute], USP [University of São Paulo], CIETEC [Center for Innovation, Entrepreneurship and Technology] and FAPESP. Training engineers in world-class schools assures a return to society. Supporting research excellence assures a return to society. Stimulating small tech firms assures a return to society. The capacity of the state of São Paulo in technological capability building is mobilizing in an exemplary manner to help tackle the pandemic crisis," said Carlos Henrique de Brito Cruz, FAPESP's Scientific Director.
Partners
Positivo will be responsible for supplying circuit boards for the ventilators. Suzano will help with engineering solutions, global procurement of inputs and working capital for the purchase of components. Klabin will be responsible for procurement and import management, as well as supplying packaging for the ventilators to be shipped to hospitals.
Embraer, in conjunction with seven other companies in the aeronautical industry, will seek the best solution to increase production capacity. Magnamed expects the experience of this group of companies in complex machining to enable it to produce 5,000 components for ventilators by the end of April. 
Flextronics has been authorized by ANVISA, Brazil's national public health surveillance authority, to set up an assembly line for the ventilators at its plant in Sorocaba, state of São Paulo.
Fiat Chrysler will help identify and eliminate production bottlenecks, as well as pursuing credit facilities to expand production capacity. White Martins will be responsible for supplying oxygen for use in testing the ventilators, and for gas consumption engineering design and infrastructure.
From garage to world leader
Magnamed produces 1,800 ventilators per year, and 40% of them are used in intensive care units (ICUs). 
The emergency ventilator developed with the support of FAPESP's PIPE program was the first step in Magnamed's transformation from garage startup to a company that exports to more than 60 countries and has a plant in the US. Exports account for 40% of its sales revenue.
"FAPESP's support was extremely important in the embryonic phase when we were just entrepreneurs with a lot of know-how but without the resources necessary for the entire product development cycle," Ueda said previously to FAPESP Innovative R&D in April 2017. 
The firm was founded by Ueda, Tatsuo Suzuki and Toru Kinjo in 2005, when all three engineers decided to leave their jobs with a medical equipment maker in order to innovate.
According to the report "2020 Global ICU Ventilator Market Outlook", Magnamed is now a leading player in the global ventilator market, alongside Medtronic, Philips and GE, among others.
 
Source: https://agencia.fapesp.br/32996