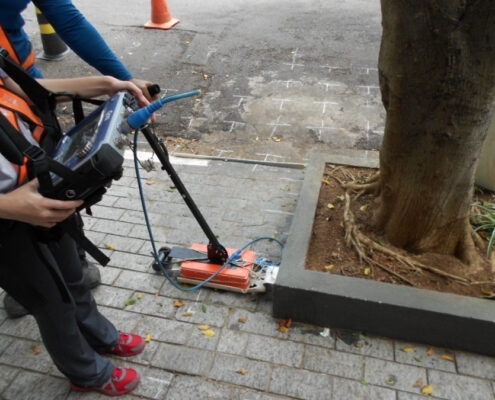 The technology diagnoses anchor root size and spatial distribution (photo: Kerno Geo)
Published on 12/05/2022
By Fábio de Castro  |  FAPESP Innovative R&D – Good management of urban trees is key to assuring the well-being and safety of people and property on the street, and to be successful requires a precise assessment of tree health and stability, but few tools for this diagnosis are available.
An innovative technology to do so has been developed by Kerno Geo Soluções, a startup based in São Paulo (Brazil). The system maps root systems and collects data on the internal condition of tree trunks in the form of high-resolution imaging. It is neither invasive nor destructive because no drilling or digging is required.
With funding from FAPESP's Innovative Research in Small Business Program (PIPE), the firm used geophysical knowledge and methods to develop the diagnostic tool, called Kerno ANDAS. Besides images of the inside of tree trunks and 3D mapping of root systems, the technology also collects data on the physical properties of the soil and its relationship with tree roots. 
"In geophysics, we study Earth's surface and subsurface by indirect methods widely used in mining, oil prospecting, archeology and groundwater surveying, for example. We're now giving these methods a different focus by using them to study urban trees," says Vinicius Neris Santos, principal investigator for the project. 
According to Santos, one of the firm's equity partners, urban tree management requires comprehensive analysis of stability, which depends on a number of factors, such as trunk cavities and rot. The roots also contribute to stability, of course. An assessment of the risk of tree falls can help decision makers manage trees efficiently, avoid the socio-economic damage associated with falls, and save the cost of removing or replacing trees.
"The problem was that the tools available for root mapping were limited or rarely used, especially for roots located under asphalt, concrete sidewalks and other impermeable surfaces," Santos says. "In these cases, the only way to analyze the root system would be to break up the sidewalk or roadway, which is costly and time-consuming. With our geophysical methods, it can be done efficiently, reliably and speedily."
The project began in 2018, when Santos, a geophysicist, teamed up with geologist Marcelo Martinatti and mathematician Marcelo Caetano to conduct a project in which geophysics could be used to study trees. This was followed in 2020 by Phase 2, which was completed in mid-2020. The product is on the market and is being used by several clients in the public and private sectors.
"Our technology is based on a combination of two geophysical methods – one is electrical and known as electroresistivity, and the other is ground-penetrating radar, or GPR, which is electromagnetic," Santos explains. "Using electroresistivity, we inject an electric current directly into the tree trunk or into the ground to measure the distribution of electrical resistivity and detect cavities or areas of rot, as well as mapping areas where there are underground roots."
For GPR, they use a small device that moves over the ground emitting high-frequency radio waves, which are reflected back to it by underground objects. By means of this reflection of electromagnetic waves, it produces high-resolution images at varying depths, showing where there are roots as well as the diameters of the main structures. The same method is used to obtain soil parameters such as porosity and water content from geophysical data.
"When we want to characterize roots by mapping their depth, spatial distribution and diameter, we use GPR. To characterize the soil in terms of biomass, and to measure root volume, we use electroresistivity. To locate trunk cavities, we can use both methods," Santos says.
Constructing solutions
In the first phase of the project, Kerno Geo's researchers focused on the feasibility of using geophysical methods for the purposes of tree management. They studied the world of urban trees, interacting intensely with forest engineers, biologists and agronomists, and discovering that GPR could be a good solution. One of the institutions they consulted was the Technological Research Institute (IPT), an arm of the São Paulo State Department of Economic Development with an excellent reputation for this type of analysis.
"The engineers at IPT told us they couldn't get information about roots and said we'd be in a strongly competitive position if we could supply a tool to map the root systems of street trees. The challenge was to translate images derived from geophysical methods into information for the general public," Santos says.
To surmount this challenge, the firm developed software that analyzes the data obtained and generates images that can easily be understood by people who have never had contact with geophysics. It tested the software in the field on trees of various species and different environments.
"We had to ensure the technology was not just high-quality but also fast. This process needs to be agile so that a large number of trees can be analyzed," Santos says.
Besides IPT, the University of São Paulo's Institute of Biosciences (IB-USP) also collaborated on the project, helping the entrepreneurs learn about the characteristics of urban trees, while the Institute of Astronomy, Geophysics and Atmospheric Sciences (IAG-USP) provided equipment for data collection in the field.
"Having validated the concept in terms of feasibility, thanks to PIPE Phase 2 we were able to purchase our own equipment and take on board a biologist with the knowledge we lacked. In this phase, we did more testing, validated the technology, and set out in search of strategic partners," Santos recalls.
The team asked the City of São Paulo's Department of Green Growth and Environmental Management to let them pitch the technology they were developing with FAPESP's support. "The municipal government agreed at once. We set up a pilot project to present our technology to the officials responsible for urban tree management," he says.
First clients
After a first assessment of 30 trees in different parts of the city, Kerno Geo sent the department a technical report with all the images. It then presented the project to SABESP, the state-owned water and sewerage company, which asked it to analyze 14 rosewood trees (Tipuana tipu).
"Our technology was now ready for commercialization, and we started to expand, providing other services and partnering with tree management and pruning contractors," Santos says. "At the time, no one analyzed root systems. We showed prospects how we could add this knowledge to the analysis, and the advantage was clear to them. This helped us win more clients."
The firm conducted more pilot projects for other cities. In Belo Horizonte, capital of Minas Gerais state, it analyzed 14 trees. In São José dos Campos, São Paulo state, it analyzed the roots of a 500-year-old Cariniana legalis, the city's symbolic tree.
"In the interior of São Paulo state, we recently completed a project for the city of Sorocaba and we're in touch with other municipal governments," Santos says. The firm has also assisted civil engineering and building projects. "You often find trees on construction sites. It may well be that a developer wants to conserve the trees, but needs a 3D map of the roots as a guide during excavation."
The firm's business model calls for two methods of service provision. Clients can pay by tree analyzed, which is recommended if relatively few trees are involved, or by the day. "We're able to analyze four or five trees per day. Our most important clients are city halls, which are responsible for urban tree management, but we also work for public- and private-sector companies such as electric utilities, insurers and malls," Santos says.
Source: https://agencia.fapesp.br/40234