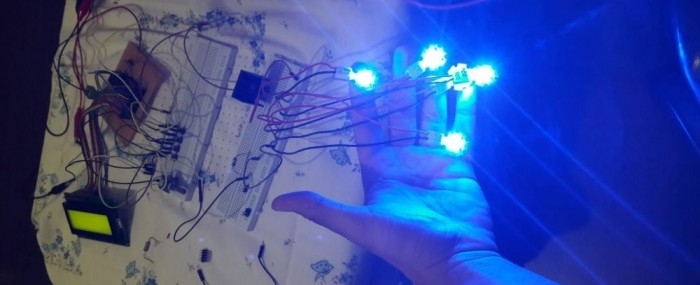 Quality is combined with low cost thanks to the lenses and filters used and the way the device is assembled (photo: Led Visual Médica)
Published on 05/12/2021
By Eduardo Geraque  |  FAPESP Innovative R&D – Physical therapist Silvana Colo Correa had more than ten years of experience in São Paulo's maternity hospitals when she decided to plunge into the world of innovation. In 2011, she moved to Araraquara, São Paulo State, and founded a startup under the aegis of the local incubator to study the use of LED (light-emitting diode) technology.
The startup was called Led Visual Médica, and its aim was to use the technology to treat jaundice in newborn babies. Jaundice is a yellowish or greenish pigmentation of the skin and whites of the eyes due to high bilirubin levels in the bloodstream (hyperbilirubinemia).
"As many as 70% of neonates in our maternity wards have jaundice," Correa says. At Leonor Mendes de Barros Maternity Hospital in the center of São Paulo City, the proportion is almost 100% among babies born to immigrants from the Andean altiplano (between Bolivia and Peru). "I've worked in the region and I know what conditions are like there," she adds.
Babies with jaundice, and often their mothers, have to be kept longer at the hospital. Correa's experience showed that the equipment used by Brazilian hospitals to treat jaundice in newborns is often expensive to buy and maintain, so she decided to design a more affordable LED device.
The project won funding from FAPESP's Innovative Research in Small Business Program (PIPE) in 2015 for Phase 1 (proof of concept and prototype development).
According to Correa, researchers at the University of São Paulo (USP) in São Carlos, led by Professor Vanderlei Bagnato, participated in the initial stage of development. Bagnato heads the Center for Research in Optics and Photonics (CEPOF), one of the Research, Innovation and Dissemination Centers (RIDCs) supported by FAPESP.
"Our contribution had to do mainly with construction of a prototype and efficiency testing," Bagnato says.
Among the improvements proposed by the CEPOF team was the inclusion of a radiometer to measure spectral irradiance and ensure optimal phototherapy treatment. "Professor Bagnato's participation was crucial. Without him and his team, we wouldn't have been able to develop the project, given the scientific challenges we faced," Correa says.
Having completed Phase 1, the startup applied for a PIPE Phase 2 grant to develop the final product. Innovation proved to be key. "We succeeded in using LED light for phototherapy to treat jaundice more efficiently than the products on the market now," Correa says.
Currently available devices, she explains, take at least 35% longer to treat newborns with jaundice. Her device will save time by focusing the light more effectively on the infant's body. Safety is also a concern: the prototype ensures no one can touch the LED.
In addition, quality is combined with low cost thanks to the lenses and filters used and the way the device is assembled. "It can be maintained by hospital staff, which is another saving. Assembly and disassembly are very straightforward. It can be used anywhere in Brazil," Correa says.
For Phase 3, which entails commercialization and marketing, the firm has applied to the PIPE/PAPPE Grant Program, a partnership between FAPESP and FINEP, the federal government's innovation agency. Before commercialization, however, clinical trials must be performed and certification obtained from Brazil's National Health Surveillance Agency (ANVISA).
"The device means indirect benefits for hospitals, especially public institutions, which always have budget limitations," Correa says. If hospital stays for newborns are shorter, beds occupied by mothers can be freed up sooner. "All this creates savings for hospitals," she notes.
Brazil currently imports devices similar to the product developed by Led Visual Médica from China, France, Germany, Japan and the United States. "Twenty multinationals account for 70% of the world market. Maintenance of these imported machines is costly and difficult, so we're optimistic," Correa says.
Company: Led Visual Médica
Web page: facebook.com/Ledvisualmed/
Contact: financeiroledvisual@outlook.com
Source: https://agencia.fapesp.br/30879