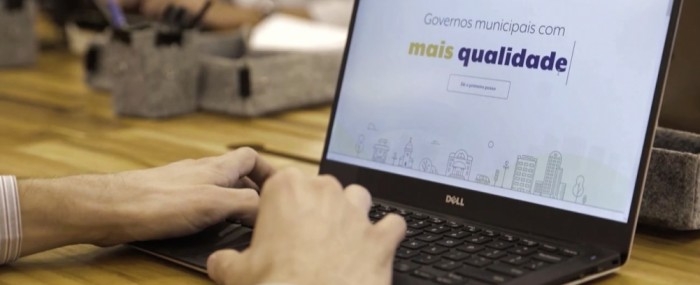 The platform helps public administrators, especially those in small and medium cities' departments of finance, achieve a better understanding of budget execution data, identify problems and implement solutions (photo: Gove)
Published on 05/04/2021
By Elton Alisson  |  Agência FAPESP – A group of four cities in Bahia, the largest state of Northeast Brazil, have boosted their financial resources by almost BRL 17 million in recent years thanks to improvements in tax collection and expenditure processes.
Public administrators in the four cities achieved these results with the aid of a technological platform developed by Gove, a startup that produces high-tech solutions to improve the management of public-sector organizations in Brazil.
Gove is part of the burgeoning govtech sector, which applies technologies such as artificial intelligence, blockchain and advanced data processing to improve the delivery of public services by increasing efficiency and lowering costs.
Gove had a research project selected in a call for proposals to innovate in public administration issued by the PIPE-PAPPE Grant program, a partnership between FINEP, the Brazilian government's innovation agency, and FAPESP via its Innovative Research in Small Business program (PIPE).
Gove's project and 34 others selected in PIPE's 2nd Cycle for 2019 were announced at an event held in November at FAPESP's headquarters in São Paulo City.
"We plan to integrate more data and enhance the technological platforms' analytical models so as to increase fiscal efficiency gains for cities all over Brazil," Gove founder Rodolfo Fiori told Agência FAPESP.
Fiori had the idea of creating the platform while studying for a master's degree at the London School of Economics & Political Science (LSE) in the United Kingdom. During his research, Fiori analyzed the results of the decentralization of finance and responsibilities to cities in countries with similar characteristics to Brazil. Combining his findings with those of a prior study of city government in Brazil, he concluded that there were ample opportunities to support small and medium cities in their efforts to improve budget management efficiency.
Fiori then created a software package to analyze municipal financial data in search of inefficiencies, pinpoint opportunities, and support the implementation of improvements.
In this manner, the platform helps public administrators, especially in the finance departments of small and medium cities, achieve a better understanding of budget execution data, identify problems and choose solutions.
"We've run projects in more than 400 cities in different regions of Brazil," Fiori said. "Some of these cities use the full version of the platform with all features, functions and resources."
The software developed by the firm connects to the fiscal management systems used by city governments and collects data on revenue from property and service taxes, among other sources, as well as expenditure. It analyzes the data to identify debts including tax arrears and highlights factors that lower the tax take, such as out-of-date property valuations.
As part of the project supported by FAPESP, the researchers now plan to enhance platform/city integration by developing automatic data collection mechanisms, for example.
In addition, the project will create new models for analysis based on big data and artificial intelligence techniques, among others, with the aim of cross-tabulating data to identify issues in revenue and expenditure.
"One of our main goals is to create a large repository for the various types of data held by city governments in different systems that don't talk to each other and have interfaces designed for registering data but not for extracting conclusions from it," Fiori said.
Guaranteed return
According to Gove's estimates, the platform has increased its clients' efficiency by more than BRL 100 million to date. The firm guarantees a return on investment equivalent to at least three times the amount spent by a city to acquire the service.
"A city that doesn't obtain this return pays nothing. The service ends up being free of charge," Fiori said.
The firm has doubled its size in recent months, he added, mainly owing to new contracts with several small and medium cities, Gove's core business. Cities with fewer than 200,000 inhabitants account for 97% of all Brazilian municipalities and are the most lacking in mechanisms that could help improve the efficiency of their budgeting.
"All Brazilian cities have problems of this kind, but a mega-city like São Paulo [with over 12 million inhabitants] has more capacity to attract talented people and a big enough budget to acquire sophisticated decision support technology," Fiori said.
In addition to small and medium cities, larger cities such as Blumenau in Santa Catarina State have also implemented the system.
Company: Gove
Site: www.gove.digital 
Contact: www.gove.digital/en/contato 
Tel: +55 11 98492 0686
Source: https://agencia.fapesp.br/32397